Inauguration Day Activities
Wednesday, October 4, 2023, marked the inauguration of Minouche Shafik, a celebration of Columbia's 20th president and a public reaffirmation of the university's commitment to service, impact, and academic excellence.
The day itself was divided into two parts: the investiture, which is the formal ceremony that installs President Shafik as the head of Columbia, and an evening campus-wide celebration featuring a DJ, dancing, and a closing show.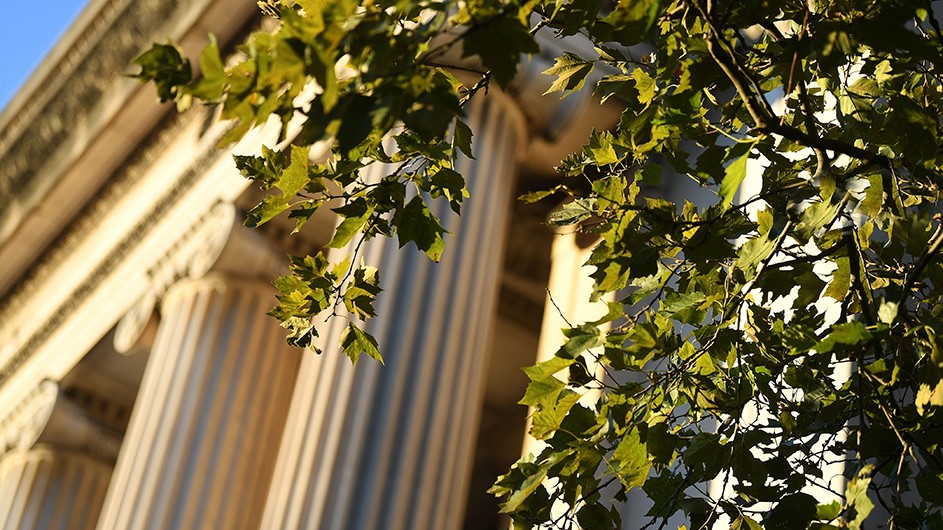 Investiture
Order of Academic Procession
First Division
Senior Leadership of the University
University Senate
Deans and President Affiliates of the University
Faculties of the University and Professors Emeriti of the University
Trustees and Senior Leadership of Affiliated Corporations
Second Division
Delegates from Educational Institutions and Learned Societies, and Other Distinguished Guests
Third Division
Honorary Head Marshal
Presiding Officers
Presidential Search Committee Members
Trustees Emeriti of the University
Trustees of the University
Presenters
Mace Bearer
President of the University
Honorary Head Marshal
Amy E. Hungerford, Executive Vice President for Arts and Sciences; Dean of the Faculty of Arts and Sciences; Ruth Fulton Benedict Professor of English and Comparative Literature
Mace Bearer
Lisa Carnoy, Chair of the Columbia Alumni Association (CAA) and Chair Emerita of the Board of Trustees
Presiding Officers
Katrina A. Armstrong, Chief Executive Officer of Columbia University Irving Medical Center; Executive Vice President for Health and Biomedical Sciences; Dean of the Faculties of Health Sciences and the Vagelos College of Physicians and Surgeons
Dennis A. Mitchell, Interim Provost Professor of Dental Medicine at the Columbia University Medical Center
Order of Exercises
Prelude
Processional
"Trumpet Tune," Music by Henry Purcell (1659–1695)
"Rondeau," Music by Jean-Joseph Mouret (1682–1738)
Instrumental performance by the Columbia University Crown Quartet
Opening
"Funga Alafia," Music by LaRocque Bey
Performance by the Middle Division Concert Choir, The School at Columbia University
Remarks by the Copresidents of the Native American Council

Eva Brander Blackhawk, Columbia College and Western Shoshone
Hannah Jimenez, Columbia College and Cherokee Nation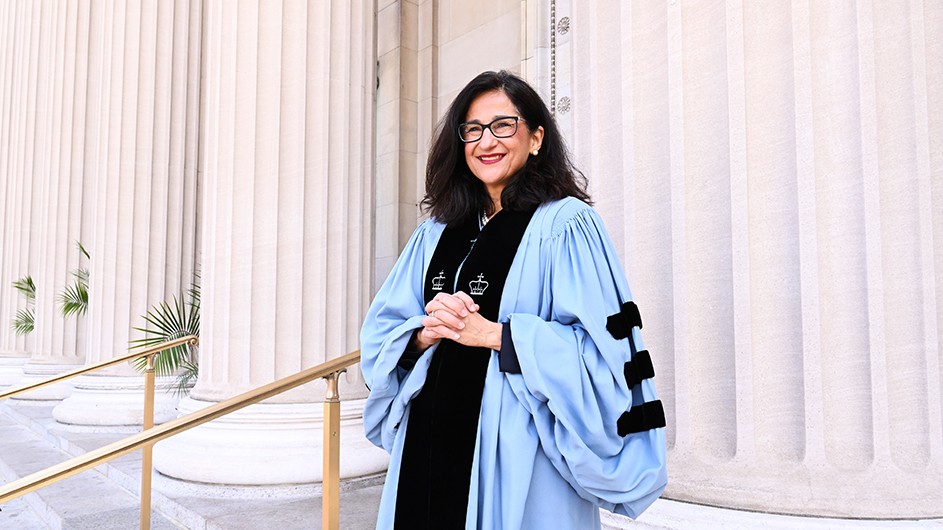 Welcome from the Community
Adriano Espaillat, U.S. Representative of New York's Thirteenth Congressional District
Sheena Wright, First Deputy Mayor of New York City
Welcome from the University
Eugenia Lean, Faculty Representative; Vice Provost for Faculty Affairs and Professor of East Asian Languages and Cultures
Ann D. Thornton, Staff Representative; Vice Provost and University Librarian
Jonathan Lavine, Alumni Representative; Chair Emeritus of the Board of Trustees
Bruce Goumain, Student Representative; School of General Studies and University Senate Executive Committee Member
"New York State of Mind," Music and words by Billy Joel (b. 1949)
Vocal performance by Notes and Keys
Greetings for the President
Madame Christine Lagarde, President of the European Central Bank
Investiture
David Greenwald, Cochair of the Board of Trustees
Claire Shipman, Cochair of the Board of Trustees
President's Inaugural Address
Minouche Shafik, A New Social Contract for Universities and Society
Closing Words
Recessional
Performance by the Columbia Athletics Pep Band
Official Program
Investiture Watch Party Locations
Morningside Campus 
South Lawn (open to the public)

Co-Hosted by University Life

Butler Library, Room 214 
John Jay Hall, Wang Lounge (First Floor; for CC/SEAS Undergraduate Residential Students)
Manhattanville Campus
The Forum, Atrium (open to the public)
Columbia Business School, Geffen Hall Room 620 (645 W. 130th Street)
CUIMC Campus
West Campus: Hammer Health Sciences, Room 401 (701 West 168th Street)
East Campus: Columbia Nursing (560 West 168th Street, 7th Floor)
Lamont-Doherty Earth Observatory
61 Route 9W, Palisades, NY; Monell Building Auditorium
Evening Inaugural Celebration
Join an evening celebration hosted by CU Performing Arts and President Shafik. 
7:00-9:30 p.m.
Master some new moves! Live performances in Lerner Hall from Columbia student dance groups, Sabor, CU China Dance, Ijoya, and Columbia Raas. The performances will be followed by demos and dancing.
Check out some videos from Onyx, who won't be able to join us but were instrumental in helping this night happen.
Down to dance? Rock around the Rotunda with DJ Stormin' Norman and Columbia's own Roar-EE.
View a closing show on Low Plaza.
Registration was required for these events and is now closed.