Introduction of Justice Ruth Bader Ginsburg
She Opened the Door: Columbia University Women's Conference
February 11, 2018
Thank you very much Gillian, for your introduction and for being Dean of the Law School.  I have a very special place in my heart for law school deans, having been one, and Gillian is one of the very, very best. 
I want to recognize a few people at the beginning:  My wife Jean, an artist. There's no stronger or more insightful advocate for the rights of women than Jean. Justice Ginsburg, of course, whom I will say more about in a moment, and her family members with us today, including her daughter Jane, a member of our Law School faculty.  I want to thank the conference organizers Teresa Saputo-Crerend and Kathleen Crowley, and the trustees, deans and faculty, and the alumni and guests who are here with us.
Today's program and the many events held throughout this quite extraordinary weekend pay homage to Dr. Winifred Edgerton Merrill and all the remarkable Columbia women who have followed her.  This University-wide conference is the product of extensive planning and coordination among Columbia's 18 affiliated schools—a collective effort, and we thank all who have brought this about.
I also want to thank Poppy Harlow, who will be moderating the discussion you will be treated to in just a moment.  Poppy is a graduate of the Columbia College class of 2005.  She co-anchors CNN Newsroom and is the host of Boss Files with Poppy Harlow.  Poppy also just gave birth to her second son four days ago.
It is now my pleasure to introduce Justice Ruth Bader Ginsburg.  Justice Ginsburg is an alumna of Columbia Law School and the first woman to become a tenured member of our Law School faculty.  She co-founded the ACLU's women's rights project and, while teaching at Rutgers University in the 1960s, she was an early leader in the fight for equal wages for women.  In the 1970s, her advocacy before the Supreme Court succeeded in winning five decisions that would lay the foundation for our modern jurisprudence protecting women's and men's rights.  And in the quarter century she has served as an Associate Justice of the Supreme Court, Justice Ginsburg has distinguished herself by authoring majority opinions that secured the basic rights for the vulnerable and disenfranchised, and writing forcefully in dissent to keep alive the claims of voters denied access to the polls and women denied equal pay for work.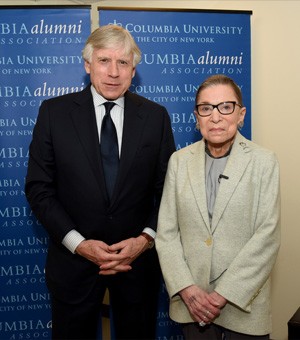 But it is difficult to convey, even through this list of outsized accomplishments, what the full meaning and importance of Justice Ginsburg's presence in the public arena is to this nation, and even to us in this hall gathered here on this rainy February day to listen to her speak.  What we know is that she is brave and determined to speak with a moral clarity that is channeled by a keen intellect and impeccable legal skills.  She gives voice to those with legitimate claims on our Constitution and our society's ideals but who lack the political power to secure those rights.  Her voice is authentic, strong, and filled with heart.  In an area I know well, of race in America and the importance of affirmative efforts to address the dreadful legacy and continuing reality of segregation and discrimination, Justice Ginsburg's opinions have been by far most compelling. 
Not only in supporting those efforts, but also in arguing in favor of a clear and self-conscious openness about what we are doing when others would approve, but only on the condition that our purposes be disguised by other motives, not about redressing racial inequities.  
On a more general level—in the world today, there is an unnerving trend that constitutes a threat to something that we usually take for granted, namely, the rule of law.  This simple principle undergirds everything—the notion that there is something we commit ourselves to as a nation and as a world that stands above and beyond what individuals and parties, no matter how powerful, may want.  Few nations today or in history embrace this concept, which means it's both extraordinary and forever fragile, and has not by any means always been adhered to, even by our own country.  Insofar as we are facing and will face challenges to this very basic concept, there is no one we can count on more than Justice Ginsburg.
Finally, no introduction of the Justice would be complete without recognizing her status as a legitimate pop-culture star—the subject of a famed Tumblr account, myriad memes, and countless tributes on social media.  Her admirers come from all corners of society, and appreciation for her career extends beyond the boundaries of age, gender, sex, and profession.  Rather than trivialize her accomplishments, these emotional attachments speak to the power of her inspiring example.
We are always grateful when Justice Ginsburg is able to make time to return to Columbia, and especially so on this occasion.  A University-wide women's conference at Columbia would simply feel amiss without the presence of Justice Ginsburg.  For, in every way that matters, she is the one who has opened the door, for all of us.