President Bollinger: We Must Grapple With Complex Ideas and Defend Our Values
Fall Convocation Address  |  August 27, 2017
"Your studies here and now are going to be as meaningful and as deadly serious as life ever gets."
It is a very great pleasure to welcome you, our newest students, to Columbia University in the City of New York. We cherish the enduring, life-long relationship we now begin with you, at this critical time in your lives and with this celebratory occasion.
We also feel a deep connection with your parents and families, for whom we know this is a very poignant moment. We welcome everyone who is attending this evening.
I regard it as a privilege to speak to entering students, which to my good fortune I have been doing for many years now. The transition from what your life has been to what it will be from this moment on could not be more profound. Not only will you be on your own and bear the primary responsibility for your life from here on out, but, most importantly, you are about to become immersed in a unique and probably never-to-be-repeated-in-your-lifetime intellectual environment completely dedicated to advancing human knowledge and pursuing truth.
There really is nothing like a great university, and I strongly believe that among the great universities in the world there is nothing like Columbia University. Columbia is made up of an unmatched array of intellectual talent; it is more diverse in its composition, in every respect, and truly believing in the virtues of diversity; it is more international and global in its sensitivities and outlook; it has a unique curriculum, notably with the Core; and it resides in a national and global capital city and draws every day upon the riches of that special urbanity.
Moreover, I would also say this is the right moment to be at Columbia. The fundamentals of great scholarship and teaching are thriving, but there are also many enormously exciting initiatives underway and new experiments taking shape all the time. There's a new campus opening in West Harlem – the first at Columbia in over a century; with a master plan and the initial buildings designed by the architect Renzo Piano. While you are here the new campus will become populated with thousands of students, faculty and staff. We have an evolving network of Columbia Global Centers spread all across the world that are helping our faculty and students experience first-hand and to study the phenomena of globalization. We have new University initiatives in Data Science, Precision Medicine, and Globalization, and last Spring we announced a major venture called Columbia World Projects, which is currently being designed to help make Columbia the home for bringing academic knowledge and capacities together with outside partners—from governments to institutions of civil society— to help solve significant world problems.
You will hear much about this in the coming weeks and months, including several opening projects. These are all just a few of the activities that may attract and engage your interest while you're here. I can assure you there is enough going on at Columbia to make you as breathless as the city does all on its own.  
Which leads me to make a brief comment about you personally. It is easy, very easy, to feel utterly overwhelmed by all of this – Your studies, happenings at the University and the City. It is exhilarating, but it can also be stressful, highly stressful. Please know two things. First, we all feel the intensity of life here, more or less. You are not alone. And, second and most of all, we are all here to help. From friends to faculty to professional staff, we all have a role to play in helping one another work through issues, no matter how large or small, and to get the most out of the extraordinary experiences offered in this environment. So, let us help. Everyone is easily reachable, including me, so do reach out and I promise you we will respond.
Just a moment ago I spoke about the privilege of welcoming new students. It is a time to think about and speak to the combination of a student's new life in a university and its relation to the great issues of the day. There are, of course, always critically important issues on the horizon, and drawing attention to them can help one see one's education in a larger context. But, I have to say, this moment feels different, more portentous, more fraught with basic uncertainties about basic matters, than at any recent time I can remember. This is true both in the United States and across the world, as authoritarian regimes and attitudes are on the rise and democracies and multilateralism among nations appear to be in decline. All this seems to have come on suddenly, and our lack of preparation is revealed as we experience one shock after another.  
The entire system we have built up over a century critically depends upon judges and leaders condemning the content of the speech at the same time we insist on "protecting" or "tolerating" it.
I do not wish to be political or partisan here. The University, as such, must remain a neutral institution on matters of political debate. Generally speaking, we have no official position on trade, tax or health policies. But this does not mean the University has no stake in anything outside these gates or no legitimate interest in being a participant in the society beyond our research and teaching. This is a complex matter, to be sure, and beyond the scope of this talk. But I would say this: When the University is faced with a potential breakdown of the societal conditions that make possible what we do – for example, the loss of respect for facts, truth, and reason or the loss of respect for fundamental values such as freedom of speech and press and the rule of law, or the loss of respect for the rights of individuals and groups to be protected against invidious discrimination – then the University has both the right and the responsibility to speak out and even to act to bring about change.
The recent highly disturbing events in Charlottesville, Virginia, and at the University of Virginia, and the subsequent characterization of those events by the Administration, are among the most recent episodes indicating a breakdown. There is no question extremist groups in America and elsewhere are feeling empowered. And this has only added to that dangerous sense of empowerment. Many citizens and groups among us are experiencing a greater sense of vulnerability these days, because of verbal attacks, because of new policies such as those regarding immigration, and because of silences when hatred and prejudice manifests itself.
From the standpoint of freedom of speech, there is a kind of slow process of degradation happening. The First Amendment is relatively young, having only been formulated as we know it today over the last century. Beginning about 50 years ago, the Supreme Court in a series of decisions established a degree of protection for speech beyond any seen before or since in any society. So, with some conditions, speech of the Klan, neo-Nazis and White Supremacists among others is protected, even though their messages are evil. This posture is not self-evidently right (it is certainly contestable), but it is one born of painful experiences and over many decades, and one around which there has emerged a unique supportive consensus from both the liberal and conservative wings of American political and legal system.
There are many rationales supporting this approach; for me it's a remarkable effort by the nation to practice extraordinary tolerance in order to highlight and address a broad need across all social interactions to be more tolerant to differences than we are naturally inclined to be. But, whatever the rationale, the entire system we have built up over a century critically depends upon judges and leaders condemning the content of the speech at the same time we insist on "protecting" or "tolerating" it. Ambiguity about how the society "thinks" about these messages undermines what is supposed to be an act of tolerance, of magnanimity, not respect for the viewpoints proffered. Until now, such condemnation has always occurred. The point is that there are many ways in which this most recent episode in Charlottesville threatens core values and systems in the nation.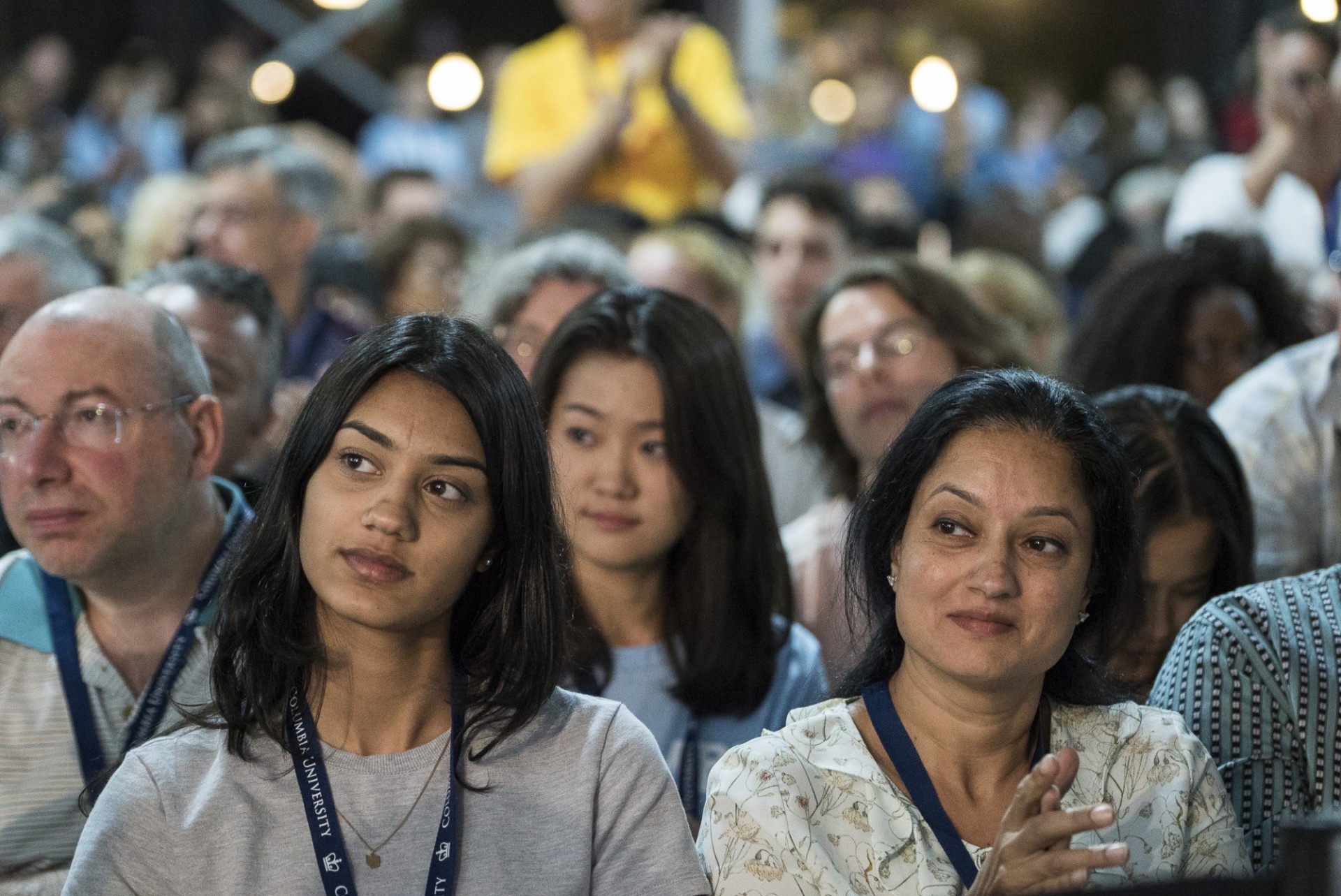 Now, the important question for us here tonight is what does this mean for you as you enter your studies at Columbia. And my answer to that question is that it makes you and your education here more important, more vital to the future of this country and the world, than I have felt in a long time. I hope and expect that you will very quickly discover that what you are learning here is not just some abstractions, or theories, or ideas about which great minds long ago have worked on and worked out and which you and we can take for granted and move on. These ideas, and more importantly the intellectual process and scholarly temperament by which you will grapple with these ideas, are absolutely and inherently very much alive and well, or not so well, today. In other words, what all this means is that your studies here and now are going to be as meaningful and as deadly serious as life ever gets.
Let me close with a word about freedom of speech on this campus. Over the past year especially, there have been many high profile instances of speech being denied on college campuses, because it was deemed offensive, or because of feared disruptions and even potential violence, or because there was a wish to avoid controversy. Here at Columbia we are a private institution and therefore not covered by the constitutional right of free speech. The First Amendment only applies to "state" action, which includes state, but not private, universities.  That being said, we – like most other colleges and universities – have voluntarily embraced the general framework of First Amendment jurisprudence for ourselves.
It is, of course, much more complicated than that statement might imply, but the essential elements are these: We, like the broader society, have a "public forum," in which students and faculty speak about public issues and often invite outside speakers in. Outside speakers have no "right," as it were, to use our campus absent an invitation, and I would not hesitate to deny an independent request to do so under various conditions. But, like the First Amendment itself, the scope of ideas that can be expressed here is very, very wide and encompasses many viewpoints and perspectives that certainly I, at least, regard as deeply offensive, dangerous and wrong-headed. Our choice has been and is to deal with that disagreement by means other than stopping the speech from occurring, which primarily means by accepting our responsibility to confront speech we dislike and to state our reasons for rejecting it. It is my – and our – job to see that this system is preserved and operates in the most productive way possible.
I have been thinking a great deal about you and what you might be thinking at this moment. I am confident in this University, just as I am in the nation and our institutions, that we will make it possible for you to start your lives on a secure foundation of the values and practices we both treasure and on which we have prospered. Certainly, we have much work to do, even if more than we might have thought. But it is a genuine pleasure to think of doing it with you.
Congratulations on making this transition in your lives and welcome to Columbia University.