Introduction of Mayor-elect Bill de Blasio (SIPA'87) at NYC Summit on Children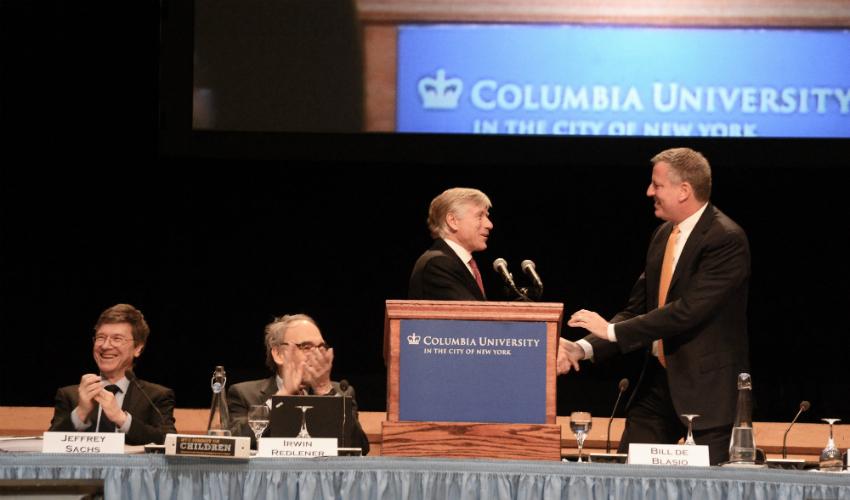 November 25, 2013
Good afternoon, welcome, and thank you all for participating in this "New York City Summit on Children" here at Columbia.
I'd like to begin by thanking Columbia Earth Institute Director Jeffrey Sachs and Professor Irwin Redlener for assembling this conference—which serves as the official launch of the new Earth Institute Program on Child Wellbeing and Resilience that Irwin is leading.  This endeavor touches on issues that could not be more critical to our society, whether here in New York City or in communities around the globe: how to give our children the healthiest start in life that allows them to grow, to learn, and to develop the capacity to make the most of their future.
Before I introduce our next Mayor, please join me in recognizing a former Mayor who is a much beloved member of our Columbia community—longtime Professor of Public Affairs, author, and friend, the Honorable David Dinkins.
It's my pleasure to welcome back to this campus New York City's Mayor-elect, Bill de Blasio, who, as a young man, clearly had the political foresight to pursue his higher education both below 14th street and above 114th.  Even then a coalition-builder.
I trust today will be only the first of many opportunities we have during your term as Mayor to see you back at Columbia for events like this one.  Because, as just a few of the faculty members around this impressive table illustrate, this has never been a place of quiet scholarly retreat, but one with a deep tradition of active engagement in the great issues of our time.  And, given the challenges we face at home and around the world, it's never been more profoundly important for our great research universities to commit both our intellectual capacity and our convening power to the search for solutions.
So think of this as a very, very large "Talking Transition Tent."
Just three weeks ago, Bill de Blasio was elected Mayor by an historic margin, winning the support of every one of New York City's major demographic groups and diverse neighborhoods.  It places him in a very long line of Columbia alumni as Mayors of New York—as well as Mayors of an independent Brooklyn, back to when Borough Hall was its own City Hall.  Clearly, given the sweeping returns on both sides of the river, Bill de Blasio is fully in the tradition of Columbia's Seth Low, who at different times was elected to both jobs.  And in between, the job he had was mine; using his tenure to move this institution from Madison Avenue just east of what's now Rockefeller Center to here on the pastoral grounds of a former asylum on Morningside Heights—just as the newly unified boroughs of New York were transforming into the great global metropolis we know.  It's no coincidence that Columbia itself grew to preeminence in tandem with the city we call home.
Today's New Yorkers are also unified in looking forward with hope and enthusiasm to Bill de Blasio's swearing-in on January 1, and the Columbia community certainly shares in that.  What he shares with so many alumni of all our undergraduate, graduate, and professional schools who are now working in government and public service of many kinds is the determination to make a difference.  
As we on this campus expand our global perspective on the increasingly interconnected world we inhabit, we continue to be distinctive because we are in and of the City of New York.  Indeed, our mission of discovering new knowledge and of serving the public starts here. 
Like the city itself, universities exist for a diversity of people to live and work together in often completely unplanned ways, sharing knowledge and ideas that not only solve problems and cure disease, but that radiate out into our arts and culture, media, and business. That's why our local institutions of higher education are so important to attracting and developing those two things that are so important for the New York we all love: great minds and good jobs.
Indeed, among those attracted to come to college and graduate school in this city was an energetic, idealistic young man from Cambridge, Mass.  Through his politically engaged career that followed, starting on Mayor Dinkins' staff, to his work as an official in the Clinton administration under then-HUD Secretary Andrew Cuomo, and most recently as an elected member of City Council and Public Advocate, Bill de Blasio has always shown a deep commitment to building a better, healthier more just society.
So he comes to office with so many people in this City who see in him someone who is truly interested in the lives and dreams not only of his own impressive children, but also of theirs.  Of course, like anyone who takes this job, he faces enormous challenges in meeting the needs that exist in so many of our communities.  And so we are very hopeful that discussions like the one we're having here today will prove useful to him, to our city, and to our world.
Please join me in welcoming back to Columbia, the next Mayor of the City of New York, Bill de Blasio, SIPA class of 1987.