Remarks at the Vigil for Davide Giri
President Bollinger spoke at the vigil for Columbia Engineering doctoral student Davide Giri.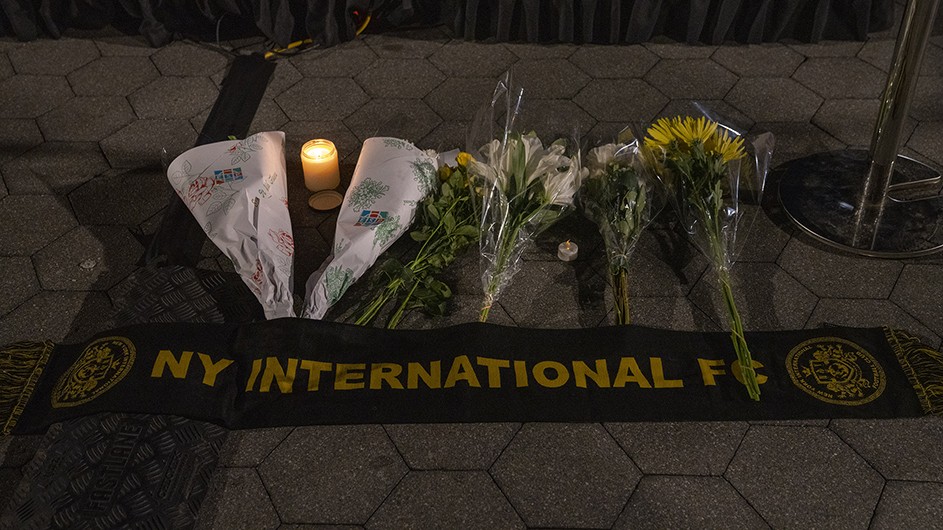 December 3, 2021
The Columbia community has suffered a grievous loss. Davide Giri was our student, our colleague, our teacher, our friend, and our fellow Columbian. When I extend our sympathies to everyone connected to Davide, especially to his parents and family, I speak on behalf of my wife, Jean, and myself, the Trustees of Columbia (who are here this evening), the faculty, the students, and the staff and administration. I also want to recognize that we share in the experience of this incomprehensible tragedy with all of our surrounding neighbors, and, indeed, with all the residents of this City we love.
Even if one did not know Davide, it is easy to imagine him in our minds, since he was of our world: A brilliant doctoral student in an exciting field on his way to an incredible career with extraordinary contributions to the world and a fulfilling life. We so deeply feel the pain and the injustice of that life promise breached in an act of barbarous violence.
I am no stranger to grief, and I know firsthand how it lives within us. The intensity of grief varies by many factors—the closeness we bear to the person lost; the time in life when the death occurs; where it occurs; the way it happened; the association this loss has with other losses; and the time elapsed from the passing. By these measures, our pain is and will be very great, indeed. Davide was us, he was young, he was deprived of his life and taken from us by an act of unfathomable inhumanity, only a few blocks from where we hold this vigil, at a moment in history when we are still struggling to cope with a once-in-a-century, near-overwhelming global pandemic—and all this happened just hours ago.
Time will, as we all know, seem to lessen the grief. But, it is also very important to acknowledge that it will never go away. And I'm glad of that. Over my time at Columbia (and before), I have known many deaths, and every single one of those, at some moments and for inexplicable reasons, resurfaces in my thoughts, and I grieve again. Such is life, and I, for one, would not want it otherwise.
While it is, therefore, a truth in life that there is no remedy for grief, there is another truth that is relevant here, which is that we can live with grief and recapture a true and good sense of purpose, sometimes even a stronger sense of purpose, by being and joining with others in doing good for others and for the world. Those of us privileged to spend our lives within universities hold dearly to the belief that humanity at its best is worth both understanding and striving for with all our might. That belief is now, especially at this very moment, worthy of a redoubled commitment.
On behalf of all of us at Columbia, I extend my deepest and most heartfelt condolences to each and every one of you; and, from us, I send our love and support to Davide's parents and family.